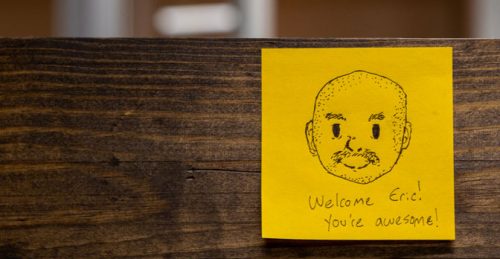 Careers
We're always looking to amplify our business with new talent.
Digital Marketing Manager (SEM)
Two Octobers is a boutique digital agency providing online marketing services with a strong focus on measurable results. Our team is small, smart, and fanatically analytical. We're looking for bright, energetic marketing professionals to help us grow.
Two Octobers' work environment is friendly and results-oriented. Our core values are: be smarter; answer questions with data; start with a business goal; be collaborative; understand consumer behavior; get ideas from humans, get efficiency from tools.
We also like dogs in the office, unless they are crazy. We like crazy dogs too, just not in the office.
We look forward to hearing from you!
---
Job Summary: The Digital Marketing Manager manages various client accounts, with primary responsibility for Google AdWords and Bing campaigns, while building strong relationships with clients. Additional responsibilities of the Digital Marketing Manager include landing page optimization, regular reporting, and other activities such as social media, display media, and Facebook advertising, as needed.
Our goal with every client is to demonstrate that digital marketing is having a real business impact. The Digital Marketing Manager uses every tool at their disposal, e.g. ad creative, keywords, bidding/budget optimization, user experience, and ad targeting, to further this goal.
Primary Job Responsibilities
Provide account management and digital services to clients; develop new and improve existing campaigns, and pursue new opportunities.
Focus on building strong client relationships, utilizing demonstrated client service and relationship management skills.
Understand and support clients' business goals.
Effectively communicate strategy, opportunities, and results with clients and all stakeholders.
Research, manage, and optimize paid search account in AdWords and Bing, effectively utilizing related tools.
Manage and track utilization, performance, and traffic analytics to optimize keywords.
Ensure campaigns stay within budget and meet utilization and quality expectations.
Recommend website changes and/or build landing pages effective for PPC campaigns.
Measure results of campaigns in AdWords, Bing, and Google Analytics, using detailed performance metrics, behavioral data, and market trends. Prepare monthly reports for clients.
Manage administrative needs of projects, including order processing and prompt client communication.
Continually measure and assess client satisfaction with services.
Advise sales and clients with regards to digital advertising and tracking "best practices".
Manage related activities, such as SEO, display media optimization, website usability, and social media management.
Develop innovative techniques that use digital media to market products/services.
Coordinate with Digital Marketing Strategists and other staff.
Collaborate with Lead and Digital Marketing Managers to implement new and modified programs and initiatives for Two Octobers.
Knowledge and Skills
Demonstrated experience in building strong client relationships, using client service and relationship management skills.
Expert at search marketing with AdWords and Bing, including hands-on experience with A/B ad testing, ROI optimization, shopping campaigns, keyword research, and display network advertising.
Highly proficient in Excel – adept with pivot tables, vlookups, and formula building for text manipulation and data analysis.
Proficient in Google Analytics including initial setup, troubleshooting, custom segments, and AdWords linking.
Knowledge of HTML/CSS and JavaScript is a plus.
Aptitude for analytical and quantitative reasoning; ability to identify business questions and conduct data analyses in order to find answers.
Demonstrated ability to apply marketing concepts to achieve business goals.
Excellent organizational and project management skills.
Demonstrated aptitude for understanding consumer behavior.
Ability to prioritize projects, pay excellent attention to detail, and multi-task.
Strong written and verbal communication skills, and active listening skills.
Function effectively under pressure and maintain a sense of humor.
Strong interpersonal and collaboration skills.
Willingness to help wherever needed,and to encourage teamwork.
Work effectively in a diverse team environment.
Education and Experience
4 year degree in Marketing, Business or related field is desirable. Will consider a combination of experience and education related to the position.
Demonstrated experience and focus on working directly with clients.
3+ years of experience managing AdWords & Bing campaigns, with full responsibility for all aspects of the campaigns.
Large campaign experience is preferred.
2+ years of experience with two or more of the following:

Website Usability
Marketing Analytics
Display Media Optimization
Social Media Management
SEO

AdWords and Bing certifications are a plus.
Essential Job Functions
Manual dexterity sufficient to reach and handle items: must be able to use hands, stoop, bend, and reach with hands and arms.
Able to sit for extended periods of time at computer.
Have clear vision at 20 inches or less, and to identify and distinguish colors.
Lift up to 25 lbs.
Ability to speak, read, write, see, and hear to perform essential duties of the job, and be able to communicate clearly.
Ability to perform and complete multiple tasks.
Other Open Roles
If you are a fanatically analytical marketer and enjoy working in a team environment, we would love to hear from you.