Google Search Engine Results Page Changes: Friend or Foe?
An Investigation and Advisory from Two Octobers
Search engine results pages don't look like they used to
For an ever-increasing variety of searches, the results page shows all sorts of things that aren't paid results and aren't organic webpage listings.
What are these new elements and why are they here?
How do they impact search behavior overall?
What should your business do to protect itself and grow traffic from search?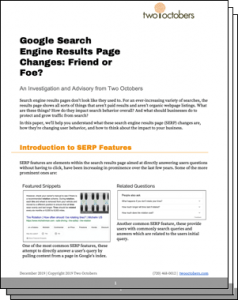 In this whitepaper, we'll help you understand what these search engine results page (SERP) changes are, how they're changing user behavior, and how to think about the impact to your business.
Download our complimentary whitepaper