storytelling with google data studio
Data Studio is a powerful tool, but are you using it to engage your audience and convey meaningful insight?
The power of interactive reporting in Data Studio can be seductive, but dragging widgets around a screen is not telling a story. In this hands-on session, we workshop practical techniques for bringing data to life with an integrated narrative.  Join Nico Brooks (head of analytics) in this two-hour session to learn how to take advantage of all the tools Data Studio has to offer.
In this two-hour online workshop, we will cover the commandments of data storytelling through the lens of Google Data Studio. You'll learn how to embed interactive charts in web documents, incorporate video insights, and create a virtuous cycle of feedback and continuous improvement. The session will be packed with marketing insight, and there will be time during a dedicated office hours to dive into your specific questions.
After this workshop, you'll be able to
The principles and ingredients of storytelling with data
Examples of storytelling: the do's and don'ts
How to make your reports richer with video insights and other mechanisms
How to embed interactive charts in web documents
Understanding of the virtuous cycle: feedback and continuous improvement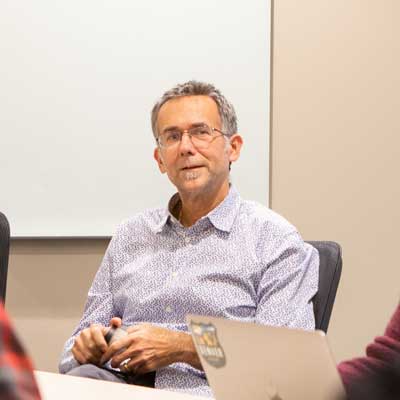 This event is not offered at this time, but check out the recorded webinar and upcoming events below!
Nico Brooks is a co-founder and principal at Two Octobers where he has created innovation, growth, and sophistication in analytics and automation for our clients for over 10 years.  Nico brings a rare combination of big picture marketing strategy and hands-on technical expertise to every business challenge.  When he's not busy solving problems, you can find him teaching search engine marketing and analytics at The Daniels College of Business and hosting the Denver Marketing Analytics Meetup.
View a previous recording of this workshop below.
why join the live webinar?
Live workshops are more interactive. You won't want to miss the office hours offered at the end of each session, where attendees ask questions and interact not only with our knowledgeable presenters, but also with each other, to extend their learnings from the workshop.
We love educating marketers! See below for a few upcoming online workshops
There's a way to use your own search query data to understand the beating pulse of consumer intent that led your prospects and customers to your site. In this workshop, you will learn how, with the right visualization and story behind query data, you can find elusive business intelligence within your own data.
No event found!
looking for something more personalized?