Marketers trained in the practice of traditional paid search know the large universe of SEM optimizations well. We have lists, or in my case, a tortured novel, full of changes to implement and tests to conduct. But these lists of vetted paid search tactics don't always translate when it comes to Google Shopping.  
Google Shopping, with its lack of keywords and reliance on a structured product data feed, can feel more systematic and restricting than paid search. But once we learned how to work with the levers that can be controlled in a shopping campaign, the results were spectacular. In a collection of data from four different e-commerce clients from Jan-16 to Jun-16, return-on-ad-spend (ROAS) was 50-800% higher in shopping campaigns than in the traditional search campaigns in the same client accounts. Below, I have outlined three of the tactics that my team and I have added to our repertoire. And the best part is that you can implement these tactics without having to find a developer or pay for additional software.
1. Group and bid products by price or margin
If the price of product A is 2X the price of product B, it stands to reason that we should bid twice as much for product A (assuming we don't have data on product margins). The thought being that we can sell three of item A where we would have to sell six of B to see the same return. With this in mind, we reorganized our product groups by product price for an online car parts dealer and saw our return-on-ad-spend more than double. First, we conducted a site-wide analysis to determine which items drive most of the site's revenue. The data below showed us that we should focus our efforts on products priced from $0-$150 as well as $250-$1,000 and that we should put less effort into optimizing  products in the $150-$250 range. You can mirror this analysis with a histogram in Excel or by using this custom function we created in Google Sheets.

Next, we broke out our product groups by product price bins. If these bins do not already exist in your feed, you can add them yourself as a custom label using Feed Rules. Feed Rules, a relatively new feature in Google Merchant Center (GMC), allow you to map fields and values in your product data based on conditional rules based on other columns. For example, below, we set product price bins in 'custom label 0' based on the values in the 'price' column.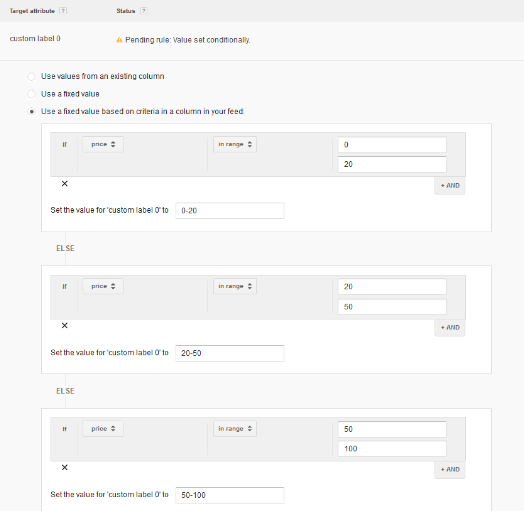 We used the site-wide data to inform our initial bids so that we didn't lose time and money waiting for shopping-specific data to accrue. Once your data becomes significant, we recommend breaking out the product groups further and setting bids as deep as makes sense. When we have enough data, we will bid by individual product ID. We continue to manage lower-volume products in bins, but make the bins smaller as we gather more data.
2. Leverage Promotions
Promotions in shopping ads are equivalent to ad extensions in text ads. We found that after we had added a "15% Off Orders Over $100" promotion to the shopping ads for one of our audio electronics clients, click-through-rate increased 4.4%, and conversion rate increased 37%.
You'll see in the example below that 50% of the product ads serving against the query 'tide detergent pods' feature a promotion. They vary from "Subscribe To Save 5%" to "15% Off Your Order" to "$10 Off Orders Of $150 Or More." You can leverage promotions for various types of offers, and you can schedule them based on the offer's timeframe. All promotions will need to meet Google's guidelines.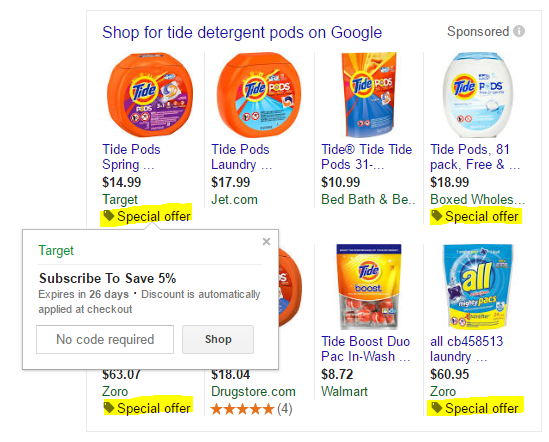 To get started, you must submit this form to gain access to the promotions tab. The form says it will take 1-2 weeks for review, but we have consistently found this timeframe to be far shorter (approximately 24 hours). Next, you can utilize three primary methods for adding promotions to your account without needing a developer. They are summarized below, but here is the full article. 
a.) Work solely in the promotions tab. This is the best option for promotions that apply to all products in your feed. Click the +Promotion button and follow the wizard.
b.) Submit a separate promotions feed. This is the best option for advertisers with numerous products, promotions that vary by product, and promotions that change frequently. Here is an example feed.
c.) Use a hybrid approach of options a and b. This is the best choice if your promotions will influence the way you bid or structure your campaign. If you select this option, you will add the promotion details in the promotion tab and designate "specific products" for the promotion. Next, you can use feed rules to add the promotion in a 'promotion id' column directly in your feed.
3. Bolster and Cleanse Your Product Data
If you're like us, you might be running at an 80% to 90% product approval rate at any given time. In other words, tens, hundreds, or thousands of your products don't even make it into your campaign because of the GMC errors that plague them. Alternatively, you may have products that are eligible to serve, but their sparse or lacking product data keeps them from mapping to the best and most relevant queries. Does this screenshot look familiar?

You will have to get creative to work through your unique errors, but we have a few examples of how we've used the powerful Feed Rules tool to combat our feeds' hard and soft errors. In the below example, we had a clothing retail client that included the product size in the title column but didn't utilize the (optional) size column. We wrote rules to populate data in the size column and thus made our product data more robust by playing nicely with Google and the triggers it uses to map ads to queries.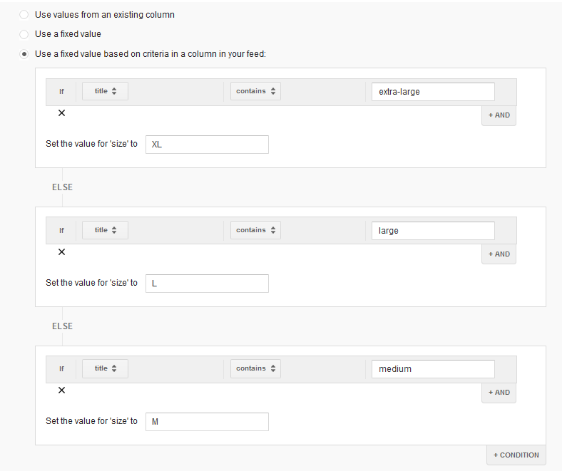 In another example, we used feed rules to combat Google's pesky new GTIN requirements after receiving the error "product requires a GTIN." This isn't a scalable rule for hundreds of products, but it can help you get a handful of priority products back up in a pinch. First, we found the errored product's GTIN (tip: try googling your product title + the word 'gtin' or 'upc' to find this value on another site, or use a UPC research site like yoopsie.com), and then we mapped the value based on the product id.

Though some large-scale Google Shopping optimizations may require developer hours or a dedicated feed optimization tool, so many of the simplest changes or solutions already fall within your reach. First, identify your biggest problems: is your average order value falling? Is your conversion rate stagnant? Is your impression share lost due to rank low? Are you inundated with feed errors? Next, get creative, and try using the examples and tools mentioned above to solve the problem. After all, you're just a seller, standing in front of a customer, asking him to buy from you.