This post is a write-up from the Google Analytics December 2017 Meetup. It is intended for Google Analytics users who do not have much experience with SEO. 
How to Set Up Google Search Console in Google Analytics
Google Search Console is a toolset that allows webmasters to view a website's performance in Google organic search. It integrates with Google Analytics to provide enhanced SEO reporting in GA.  
To see if Search Console is already set up for your GA property, go to Acquisition > Search Console > Landing Pages in GA. If you get the message, "This report requires Search Console integration to be enabled," you will need to enable it. You will need to have edit permissions in GA to do this.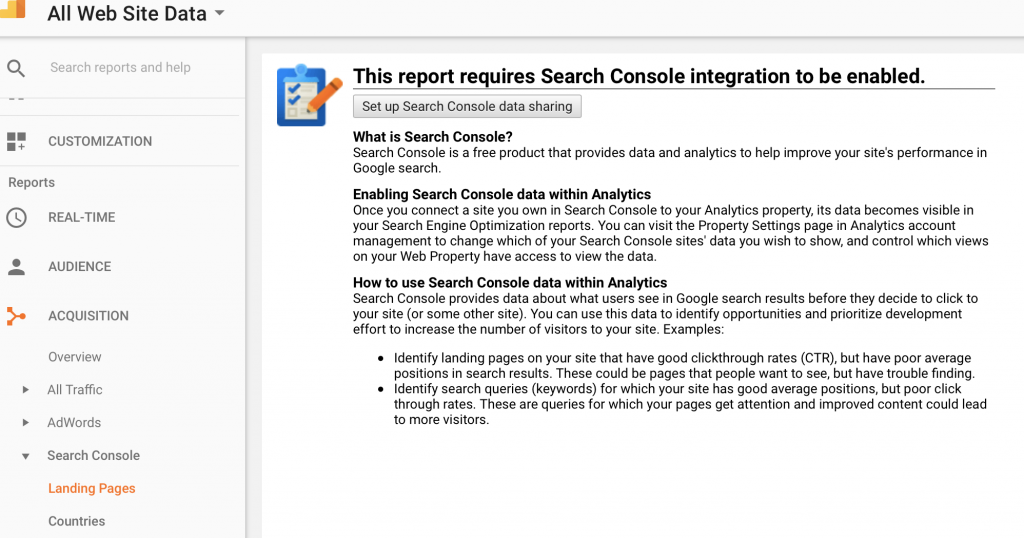 If Google Search Console has already been enabled for your website (not in GA), the easiest method is to have a Search Console property owner add your Google Analytics login as a property owner. This will give you full access to Search Console, and the ability to enable Search Console in GA. If someone in your organization does SEO, this person can probably add you. Your web developer might have access as well.
To do this, go to the Settings gear and Users and Property Owners in the top right corner.

From the User and Property Owners area, you can either select a GA property owner or add a new user.

If Google Search Console is not yet set up for your website, you will need to verify it. Google's "recommended method" is to update your DNS record via your domain name registrar. If you love monkeying around with DNS records, go for it, but I prefer the alternate methods.
The easiest alternative methods are Google Tag Manager and Google Analytics verification. In both cases, Google Search Console will check your permissions and the tags to see if all is in order. The tags have to be formatted and placed in just the right way for these to work, so they are worth trying, but if they don't work, move on to the next method.
Most of the time, I end up using the HTML tag method. Most major website content management systems have a feature or plugin available that allows you to place this code without actually editing HTML. The Yoast SEO plugin for WordPress is one such example. You can learn how to verify Search Console without code in Yoast here.
Once Search Console is set up, link it to GA by going to Admin > Property Settings > Adjust Search Console in GA. You can also link from Search Console.
More Resources
SEO Reporting in Google Analytics Without Search Console
So why can't you get similar data in regular GA reports? There are two reasons:
Search Console provides data about searches on Google properties that result in impressions of your listings in addition to clicks. In other words, if a person searches for "monkey business", and your listing shows up in Google, it will be reported in the GA Search Console > Queries report, even if the person doesn't click.

Several years ago, Google stopped passing organic search queries in the referer HTTP header field when a searcher clicked on a results listing on Google properties. Previously, Google Analytics was able to report on organic search keywords by extracting the search query from this field. Now, the keyword metric will show "(not provided)" for Google organic search traffic.
But Google identifies organic search traffic in GA as medium = organic, so you can still do a lot with this data, even if you can't see the keywords people searched in association with their tracked sessions. If you apply the System Segment > Organic, you can do detailed analysis of where organic search visitors come from, where they land, and how they convert. You can create a custom segment with the condition Source/Medium = google/organic to view only Google organic traffic as well.
Some Other GA Metrics SEO Professionals Care About
Site speed – this has become a very important ranking signal, in particular for mobile devices.
Bounce rate – "pogosticking" is a ranking factor in Google. This is when a user clicks on a listing, then hits the back button. Bounce rate is a good proxy for this factor.
Referral traffic – inbound links count towards your website's authority in Google. Watching referral traffic is a great way to see when you get mentions in the media, blogs or other sites.
Mobile Pages / Session – how your site performs on mobile is increasingly important. This isn't a ranking signal, but it is a good indicator of opportunities to improve mobile UX.
Top landing pages – top landing pages are already doing well, and they can be some of your best opportunities to  increase traffic.
The Acquisition > Search Console Reports
The Search Console > Queries report provides fascinating insights about how your website is performing in Google. In addition to showing you which keywords are driving traffic, it shows you average position and CTR. These metrics provide very actionable insights:
CTR – if you see a keyword with low CTR, search for it in Google and see how it looks. If the keyword seems like it should be a good business driver, note the page title and text that appear with the listing. Would you click? This method often reveals opportunities to improve the page title and content to make your listing more compelling.
Average position – look for keywords with high average position and a lot of impressions. These can be some of your best opportunities to increase organic search traffic. It's much easier to improve the ranking of a keyword for which you already rank than to start ranking for a keyword for which you don't rank.
Apart from the Queries report, the other Search Console reports available in GA are not very helpful. All three, Landing Pages, Countries, and Devices are available elsewhere in GA with more features. The Search Console reports tie sessions to Search Console data, but only in a very limited way. For example, you can't see both landing page and search query in the same report.
For serious SEO work, you will probably want to learn the Search Console interface, rather than relying on the limited reports available in GA. Here is a good starting point for learning Search Console.
Example of a listing:

__
Was this post useful to you? Leave us a comment and let us know! Be sure to also check out our Data Studio templates. We have one specifically for SEO!