12 Digital Marketing Tips for the Holidays
Ecommerce retail sales have been growing year-over-year, and in 2020 with a COVID-19 backdrop, we anticipate that online sales will be critical for businesses this holiday season. Are you ready to press go?
There is a lot to cover on the topic of holiday marketing, so we've whittled down a list of twelve innovative strategies that go in the 'lighter fluid' category. Learn how to keep your charcoal from burning out during the most important time of the year for retail sales. With our background in conversion rate optimization, paid media, and ROI-based analytics, we'll help you enter the holiday season with confidence that your holiday marketing plan will reach its potential.
Join Two Octobers' Digital Director Maggie Castle and learn how she's helped businesses drive ecommerce sales for multiple businesses over the last six holiday periods. In this two-hour online workshop, Maggie will cover strategic and tactical ways you can maximize revenue and ROAS this holiday, and the content is guaranteed to be original. There will be time during dedicated office hours to dive into your organization's specific plans and questions.
In this workshop you will gain:
On-site user experience tweaks and optimizations that will result in conversion rate lift
Analytics architecture that will pay off in real-time moments and in years to come
Tips for ROAS-positive paid media during this highly competitive season
Digital marketing tactical playbook and checklist
Key dates and statistics to help you tell the story of your plan to your colleagues and stakeholders
Opportunity for one-on-one questions with Maggie to discuss and troubleshoot your specific campaign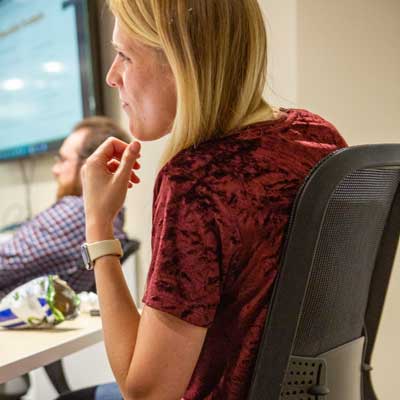 Maggie Castle is the Head of SEM at Two Octobers, where she also leads the Digital Marketing Training group and spearheads the workshop program. Ecommerce is where most of her marketing expertise falls, and she expects to be very busy come November! She has been working in digital marketing for almost ten years, four of which have been spent growing with Two Octobers.
View a previous recording of this workshop below.
why join the live webinar?
Live workshops are more interactive. You won't want to miss the office hours offered at the end of each session, where attendees ask questions and interact not only with our knowledgeable presenters, but also with each other, to extend their learnings from the workshop.
We love educating marketers! See below for a few upcoming online workshops
looking for something more personalized?