UPDATED January 2016
Check out our latest Moz Local test with 20 months of data!
Our Moz Local Review Findings
When Moz launched their new Moz Local listing management tool in March, we at Two Octobers were pretty excited. The price is right ($49/year), but will it live up to the promise? I'd like to think that it has to be top notch for @DavidMihm to put his stamp on it. Here is our Moz Local review after 5 weeks in the program.
Moz Local submits listing data to 15 websites and databases (below). A "% Complete" score indicates overall performance for each listing. Completeness aggregates inconsistencies, incomplete profiles, duplicate listings, and fully complete profiles across the 15 sites measured.
Methodology
We signed up 7 business locations to test it out. To keep the test honest, we're not doing any other work on them. After 5 weeks in the program all listings improved, but not all websites and databases improved. New listings were created and data was added and corrected on existing profiles. 
The Moz Local promise is to create and correct business listings for the 4 databases and 11 websites below. If it works, the service is a no brainer. So, how did we do after 5 weeks?
Results of the Study

All sites were flat or improved.
Average completeness is 69%, ranging from 0% – 100%.
Some individual listings saw large declines in completeness.
Winners were Localeze and Yahoo, adding all listings with 98.4% and 100% completeness respectively.
Infogroup added two listings, but four others are missing.
No listings were created on BOTW, Factual or Yelp.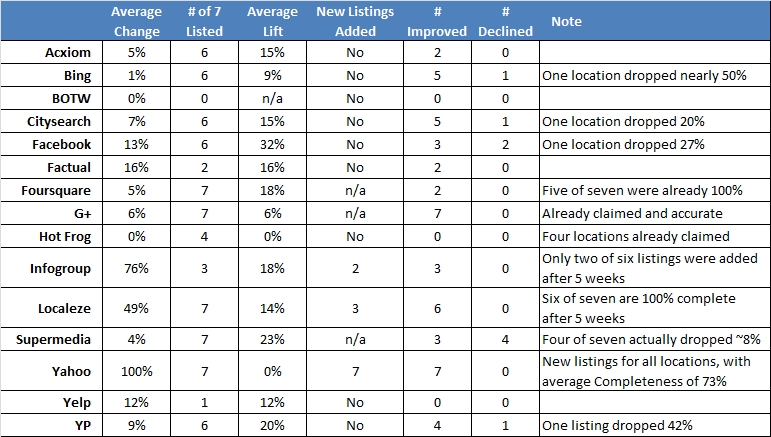 final thoughts
What's the verdict? Too soon to say. We know that updates can take many weeks or months, but I'm feeling what our clients must feel, "Why don't they update faster?!". C'est la vie. It took Yahoo and Localeze a month to update, and those are our big winners thus far. We can see in the Moz Local dashboard that other updates are in progress. Complete listings on Infogroup, BOTW, Factual and Yelp would be a slam dunk. We'll see how long those take.
If nothing else, accurate and complete syndication through Localeze, plus avoiding the nightmare that is Yahoo Local, justifies the Moz Local price. We'll be adding more businesses this month!
Next week: Thoughts on the Moz Local tool itself.